Foot Locker & Nike Join for Two Elevated Customer Experiences
Get great content like this right in your inbox.
Subscribe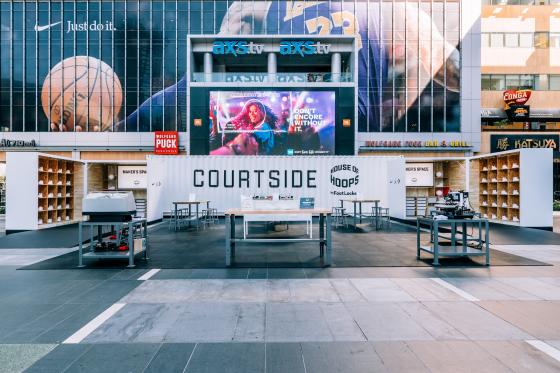 Foot Locker and Nike have joined forces to celebrate the return of basketball. House of Hoops by Foot Locker has introduced a new type of mobile pop-up shop that will appear around the country during key basketball moments, the first of which is the start of the NBA regular season.
The "HOH Courtside" experience will be periodically dropped in different cities around the country, starting in Los Angeles. Celebrating LeBron James' first game in purple and gold, HOH Courtside debuted at L.A. Live.
"We are excited to partner with Foot Locker on the House of Hoops Courtside experience," said Brian Zappitello, GM of Nike Basketball North America. "House of Hoops has been integral in how we reshape retail for the young basketball-obsessed athlete across North America and continues to make an impact this weekend in Los Angeles."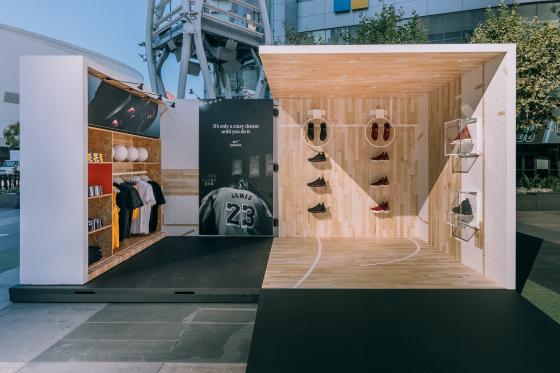 HOH Courtside at L.A. Live serves athletes and fans by offering exclusive footwear launches and a unique "makers" experience along with a full complement of product from NIKE, Jordan and Converse. The pop-up also marks the unveiling of House of Hoops' new logo, which will roll out across HOH digital and social platforms in the coming months.
Product stories featured at HOH Courtside L.A. include: Nike Basketball, Jordan, Nike Sportswear, NBA licensed apparel and "Makers" customization space. The HOH Courtside model will also come to life in House of Hoops' 185 physical retail locations around the country.

Foot Locker Adds Augmented Reality Scavenger Hunt to Mobile App
Foot Locker has also released an update to its mobile app (iOS only) that integrates augmented reality (AR) to create a more engaging shopping experience with AR scavenger hunts. The brand will leverage this emerging technology platform to offer customers exclusive content and experiences timed to limited-release product drops, starting this weekend.
"Foot Locker has always looked for new ways to elevate the shopping experience for our customers. It was a natural evolution to embrace AR, taking our scavenger hunts to the next level," said Frank Bracken, VP and GM of Foot Locker, U.S. "There's no better place to launch this exciting technology than in Los Angeles with this special edition of the LeBron 16."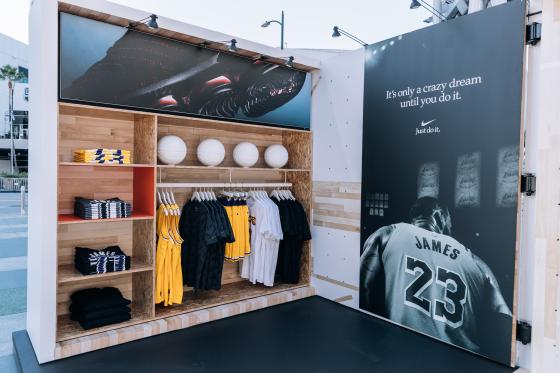 The sneaker-obsessed consumer in L.A. had a chance to be one of the first to buy a pair of the new LeBron 16 King "Court Purple." Access to the product was unlocked for customers that successfully completed the AR scavenger hunt.
"The Hunt" lets fans use their iOS Foot Locker app to unlock geo-targeted AR clues throughout the city that will lead them to the coveted limited-edition kicks. "The Hunt" began on October 20, in advance of the Lakers' home opener.
Foot Locker tapped NYC-based design and innovation agency Firstborn to create "The Hunt."