05/14/2018
Guess's Pricing Tool Makes Hyper Personalization Possible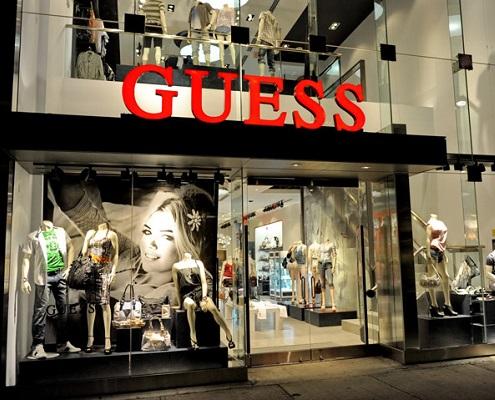 Guess's new pricing solution has greatly reduced the time required for pricing changes and ushered in a new era of customer service to the brand.
In October 2017, Guess went live with JDA's Pricer solution and has seen measurable savings in time and efficiency, and just as importantly its ability to move away from a product and location hierarchy structure and begin to hyper personalize its pricing efforts.  
The Guess merchandise information team of Jen Lange, Mike Cherry, and Brandon Mann were onhand at JDA's Focus event last week to present the results of the deployment and discuss how the new solution has made their department more flexible, dynamic and quicker.
The session was entitled "If It Ain't Broke…Fix It Anyway," which aligned perfectly with Guess's approach regarding its pricing capabilities. Prior to implementing Pricer before holiday 2017, Guess had been using JDA's Merchandise Management System (MMS) to handle in-store pricing at its 510 North American stores. While the solution is able to execute price changes, it is not the ideal software for dynamic real time price changes.
Although Guess's pricing solution was not broken, it was unable to perform at the level the brand required, spurring the search for a dynamic solution designed from the ground up as a pricing solution. Merchandise systems administrator Jen Lange was tasked with identifying a new solution and processes to streamline the pricing efforts. While at the annual Focus event three years ago, she attended a product overview session on Pricer and instantly knew it was the solution she had been looking for.
"I thought it was the perfect solution," Lange told RIS. "Especially since we have such a long relationship with JDA. I went to our executives and pitched the solution. It was a very quick sponsorship. This is my favorite project I have been involved with in my nine years at Guess. It was the most timely and most on budget."
The Business Need
While the MMS solution was able to handle Guess's pricing demands it required a lot of man hours to complete a price change, update, or promotional offer. Typically it would take anywhere between five to 10 individuals around four to eight man hours and at least three real-time hours to execute a pricing/promotional change. Further complicating the workflow was the fact that the pricing team is located on the West Coast, while many of Guess's top performing stores are on the East Coast ― meaning that pricing adjustments would often take a full working day to update in its most profitable stores.
In addition, the old system was negatively affecting store operations and the customer experience. Because of all of the people needed to execute changes and the manual processes used, errors were often introduced into the system. While the pricing mistakes were frequently flagged at the POS by vigilant associates, it required store managers to manually override the POS each time a product rang at the incorrect price, taking management away from other more vital tasks.
"We couldn't adjust prices and errors in real-time," says Lange. "The best we could do was a three to four hour time frame. Depending on how long it took to communicate and interpret and then enter, check, verify, and conduct all of the systematic jobs. At any one of those points could have been mis-entry or miscommunication. If we got it wrong would have to go through the same cycle all over again."
The Solution
The implementation of Pricer produced immediate results including a centralize infrastructure, consolidated personnel and system resources, improved accuracy and efficiency, real-time pricing changes, geographic and demographic specific promotions, increased store productivity and conversion, detailed pricing and promotional history, and enhanced customer experience
"We wanted the ability to give the customer a better experience and start doing more boutique like promos that are demographic based," Lange says. "The way we had it before it would be extremely difficult to pick out individual stores. We did not have enough manpower."
With the new solution, hyper personalized pricing at the store level is now a reality. The team is able to group stores in new and unique ways and deploy price changes at speed. No longer does the process need to start from scratch for each region/store. Now pricing staff can copy the work from a previous promo and do a mass edit in just a few minutes, versus hours under the new system.
In fact, average price and promotional changes are completed in as little as 15 to 30 minutes versus three to four hours under the old system.