07/09/2018
H&M Inventory Woes Continue
Several months after fashion retailer H&M admitted it was stuck with about $4.3 billion worth of unsold clothes, inventory woes continue.
"We entered the second quarter with too much inventory as well as with some imbalances still in the H&M brand assortment, something that we are gradually correcting," CEO Karl-Johan Persson noted.
H&M has been in the process of transitioning to new logistic systems and automating its warehouses.  
"One important part of our transformation work is to make our supply chain faster, more flexible, and more efficient," said Persson.
However, in connection with these changes, temporary interruptions and loss of efficiency have occurred. According to Persson there have been some technical issues connected to the integration between the warehouse management system and automation in the warehouses. Now H&M said it won't transition more operations this fall to connect to the warehouse management systems.
"With warehouse management systems, we will make sure that we stabilize what we have and that we're prepared well for other countries that will follow during 2019," he said.
Interruptions occurred during the second quarter in some of H&M's large markets, which had a negative impact for sales and profits in the U.S., France, Italy and Belgium, as well as online sales in the Nordic region.
"This is of course not good, but like I said, these are important transitions that will benefit us greatly going forward and they are an essential part of our transformation work," said Persson.
Persson noted the interruptions caused from the change of the logistic systems have more or less all been corrected, but during this time, H&M built up a backlog of products that it could not allocate. He claimed H&M will gradually improve this inventory backlog during the third quarter.
"The inventory level is too high and that is because we haven't sold according to plan," said Persson. 
H&M hopes its investment in logistics and in the whole supply chain will help it become faster, more flexible and efficient. It has also invested in artificial intelligence tools to be able to quantify, allocate and price better.
"Going forward, we believe that we will buy better, plan the assortment better, and we believe the assortment will be better as well," said Persson. "So that should lead to a healthier inventory level in relation to sales."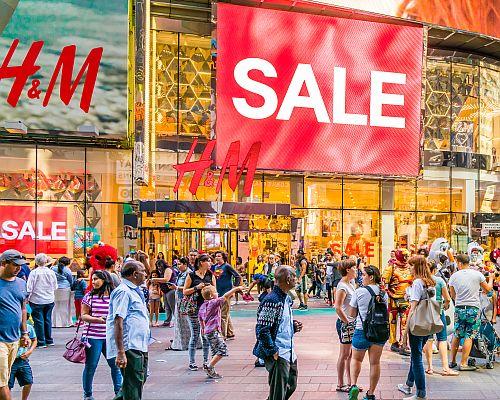 H&M has seen "good indications" from a number of pilot tests in personalization, quantification and allocation, price management, and trend detection, which could drive it to success in the future. The retailer has plans to scale these pilots up to more markets and more concepts.
"It is worth pointing out though that as these are still pilot projects, effects are yet too small to be seen in our overall performance," noted Persson. "But, with these investments, we're building something very valuable for the future."
Today, H&M plans to handle its excess of current season and season-less inventory during its summer sale. The retailer aims to handle the inventory through its own channels, but, if needed, will look at external parties to take care of it, according to CFO Jyrki Tervonen.
"Because the aim is to go into the new system or after the summer sale with the better situation compared to the same time last year," said Tervonen.
H&M's Click & Collect rollout phase in the UK went well and will be rolled out to "many more" markets during second half of 2018 and will undergo a global rollout during 2019.
The automation of the warehouses and the logistic systems will provide the foundation for RFID. H&M has piloted RFID in many stores already and has said it will roll out RFID to 1,800 stores in 2018, and to even more stores in 2019.
The company is improving the H&M Club and introducing free shipping and free returns, which has been tested before rolling it out. "More and more customers are joining the club, and it's something that we see as a long-term important thing for our company," said Persson.
In 2018, H&M plans to open 240 new stores net.
H&M will open its online store in Mexico in 2019.
H&M launched on Tmall in mainland China in March and the start has been "very successful."
Online H&M is working on enhancing the product presentation and personalizing its apps and websites. It's also improving payment options and deliveries.