Home Depot's Massive Investment Makes Use of 1.7 Trillion Data Points
Get great content like this right in your inbox.
Subscribe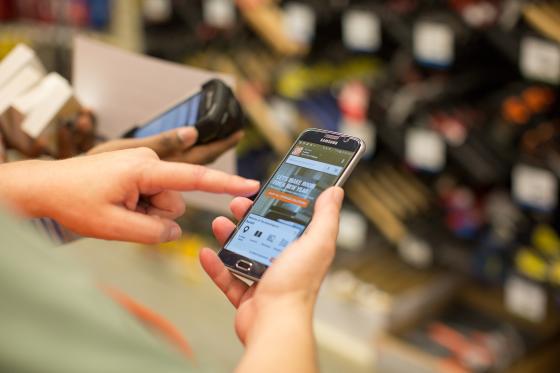 Home Depot plans an investment of $5.4 billion over the next three years related to its "One Home Depot" omnichannel strategy. Of this sum, $3.4 billion is capital and $2 billion is expense. In part, the investments will put the retailer's 1.7 trillion data points to good use.
"Becoming more personal will all start with the power of our data," said Kevin Hofmann, president of Online and CMO. "Through our size and our scale, we have a great deal of data on our customers, their homes, their businesses and their preferences and needs."
The retailer claims to have most of the U.S. in its database, with nearly 50 million households of the country active with the retailer in the last 12 months.
Through those interactions, Home Depot is now modeling 1.7 trillion data points a week from its own data sets.
This data will be at the core of Home Depot's marketing efforts and a substantial investment focus, as the retailer hones in on understanding its customers, particularly millennials.
"As our customers morph their media consumption habits, we have been and will continue to be right there with them," said Hofmann. "Our targeting capability leverages some of the most sophisticated technologies available in the market."
Home Depot is exploring new concepts like weather-triggering ads, which are only deployed and invested in when the weather is right, and local inventory ads, in which advertising dollars are deployed appropriately based on the inventory levels of a specific store or market.
Home Depot is also exploring geo-fencing, leveraging mobile location technology to understand customer traffic patterns and which neighborhoods are over or under penetrated.
Hofmann noted the retailer has even gone as far as putting geo-fences around brick-and-mortar stores to "surgically target customers with the right ads, allowing us to spend marketing dollars in both offensive and defensive ways based off customer mobility patterns."
The company is jumping more into social media, leveraging Pinterest's "Shop the Look" capabilities. The data allows Home Depot to target shoppers in the beginning of thier home improvement journey, picking up key signals they're giving off, like style cues, product tastes or project interests.
"We'll be investing in these areas significantly as the digital world provides us new and exciting ways to reach customers when they're open and accessible to messaging," said Hofmann.
Home Depot is keen on investing in its omnichannel strategy as now 60% of all of its sales in store or online are influenced by a digital visit. Digital visits to the website now rival physical store transactions. Its online and in-store business interconnect in such a way that about 45% of Home Depot's online orders leverage the store in some way for fulfillment, while 10% of our online orders originate in the store.
"We've grown the online business by approximately $1 billion in each of the last four years, and our online sales penetration is about 6.4%, approximately double our nearest traditional competitor," said Hofmann.
Part of the company's One Home Depot strategy involves leveraging data and creating a single view of the customer across the company. One example of this is the My View tool found at Home Depot's Pro desk. My View provides store and customer data to Pro sales associates. A store associate can get a view of a customer's spend pattern, products that the customer may benefit from in their line of work, and new this year, alerts that "indicate potential opportunities customers may be missing based on their buying habits."
"Our customers no longer think of us in terms of separate channels," explained Craig Menear, chairman, CEO and president. "They don't think of us as a brick-and-mortar channel and a digital channel separately. We want to enable the engagement with a seamlessness across channels, but candidly, that's not how we were built. So, as the customer continues to blend the channels of engagement with The Home Depot, we must invest in the One Home Depot experience."