06/07/2019
How Can Retailers Address the Growing Problem of Wardrobing?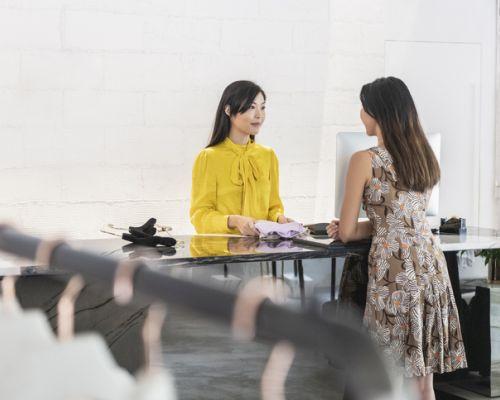 Technology continues to transform the retail industry and revolutionize the way businesses operate. However, with this revolution comes new challenges for retailers in terms of fraudulent shopper activity. Every day, retailers suffer from the effects of fraudulent returns, intentional returning or 'wardrobing' -- shoppers purchasing a garment to wear once with labels intact, and then sending it back to get a full refund. While not strictly illegal, the act of wardrobing is considered by retailers to be fraudulent and is on the rise.
According to the National Retail Federation, "fraudulent" and "abuse" returns in the U.S. alone reached $24 billion last year. The number gets worse around the holidays, when according to NRF's Holiday Planning Playbook, about a quarter of holiday shoppers buy items specifically with the intention of returning them later.
The rising trend of 'wardrobing' is fast becoming one of the biggest challenges facing the retail industry, and it's not just limited to apparel. A report from Brightpearl showed that 40% of retailers have seen wardrobing increase, and 44% agreed that their margins are being strongly impacted by handling and packaging returns. Furthermore, 70% revealed their business profits will be "further squeezed" as try-before-you-buy (TBYB) becomes more popular.
The impact of wardrobing on retailers is dramatic for several reasons, including the fact that only about half of what's returned can be resold at full price, according to a Gartner survey of 300 retailers.
Another survey indicates that almost two-thirds of retailers have encountered customers who use an item and then return it for a refund, with seasoned 'wardrobers' returning around 20 items a year. This figure increases when shoppers are confident the store won't reject their merchandise.
Competing in the retail sector is challenging, and the wardrobing problem is exacerbated by the fact that, like shoplifters, wardrobers share information about where and how they wardrobe.
The introduction of TBYB schemes aim to incentivize customers to browse online stores, but this also presents a threat for retailers. In response, companies such as international retailer ASOS have implemented policies whereby they blacklist international returners who take advantage of the service to buy clothes, wear them and then return them.
Motivations for wardrobing
Wardrobing is driven by dishonest shoppers who often want to impress on social media – some 10% confess to taking a photo of themselves in a new item for Instagram or Facebook before swiftly sending it back. As a result, some retailers have been forced to check the social media channels for those they suspect of serial returns.
However, only retailers with international reach and extensive profit centers can generally afford policies that require extensive resources and capital to implement.
The returns conundrum
Product returns are an inescapable aspect of selling merchandise. A clear and fair returns policy is not only a legal requirement, it is a big part of creating a customer-focused shopping experience. As online sales soar, as result of practices like TBYB, physical stores continue to close on a regular basis, particularly in the apparel sector. And while shoppers still want to interact with people and products, few will return if the experience fails to live up to expectations.
Creating a seamless shopping experience for honest customers is a clear priority, and it's vital that physical stores minimize out-of-stock scenarios. If customers can't locate the right size or color, there is every likelihood they will make the purchase online or, worse still, in a competitor's store.
Impact on business
As a result, improving inventory management has become a major focus, with retailers deploying new RFID-based technologies that deliver concrete results.
However, investing in ensuring merchandise is readily available is pointless if wardrobing continues to grow. Retailers may think they have an all-important sale but are blissfully unaware that shopper has no intention of keeping the item and it will be returned later. And worse still, future honest shoppers are then potentially unable to make a purchase if it was the last of its kind.
Additionally, once an item is returned it doesn't simply go straight back on display. Every day, thousands of items begin their costly journeys between processing centers and warehouses where they are cleaned, repackaged and readied for new owners. And by the time the item makes it back to stores, products are often out-of-season and need to be sold at a discount.
Ultimately, every item purchased with the sole aim of returning it at a later date increases the risk of an out-of-stock scenario – something retailers can ill-afford when trying to drive sales and achieve that exceptional customer experience.
The answer?
For retailers, wardrobing requires a cost-effective solution that is simple to implement across stores and doesn't negatively impact honest shoppers. Such solutions often include a visible tag that cannot be replaced on the garment after removal without evidence of tampering. Those garments cannot be returned for a full refund unless the tag is still in place. Many retailers attach return policy cards to the tags to ensure shoppers know the return policy and that the tags must be in place for exchanges or refunds.
Beyond this, retailers require a wider strategy to prevent and deter fraudulent shopper activity.  Components of this strategy may include the following:
Create or update a clear, written return policy. Making customers aware of this policy can dramatically reduce the number of returns.  Many retailers have adopted stricter return policies, which give consumers enough time to return apparel if they don't want it, but not so long that they're stuck with a bathing suit in the winter. Likewise, clothing should be brought back in original packaging and in original condition (not worn). The visible tag solution noted above should address this issue.

Educate/train employees regarding the return policy, making sure they clearly understand it. This may be even more important during the holiday season when you have an increased number of temporary workers. For exceptional cases, let employees know whom they can speak with if a customer is insistent on returning clothing that has been worn or has been out of the store past the return timeframe.

Assess all clothing returned to ensure visible tags are in place and there is no staining/soiling, etc.
The need for effective deterrents for wardrobing has never been more critical in a retail landscape transformed by the rise of online shopping. Wardrobing costs retailers millions every year when they are forced to discount an item that has clearly been worn or has fallen out of fashion by the time it has been returned. Retailers should consider physical solutions that make wardrobing apparent as well as putting into place clear, fair and effective return policies backed by proactive communications with customers and employees about what is and isn't permitted.
-Stuart Rosenthal, Vice President, Checkpoint Systems' Alpha High Theft Solutions