08/02/2017
How FOSSIL Got a Handle on Design
Over the past 33 years, FOSSIL has grown immensely. It began by importing brands before starting to develop its own brands and products. It also purchased a couple of Swiss watch brands. In the late '90s, the company began licensing watch and jewelry lines, starting with Armani and expanding significantly from there to include brands such as Michael Kors, Burberry, Tory Burch and DKNY.
"Over time, the company grew as an amalgamation of all of these brands," says Steve Street, senior vice president, global operations and supply chain, with the majority (around 80 percent) of FOSSIL's business in watches. That's split about evenly between owned and licensed brands, he says.
"Essentially, for decades, each subgroup of each brand had its own way of tracking and keeping up with the product development process," says Street.
It's a familiar tale: Emails and spreadsheets ruled the day, so the company ended up with many ways of handling product development, both by brand and by category (leathers, shoes, jewelry, watches, etc.). "We had a million ways of doing the same thing," quips Brad Bollinger, vice president of product development, licensed brands.
In short, FOSSIL was losing a lot of time, energy and money to redundancy and inefficiency, and it needed to integrate and unify its product development processes.
It thought the answer to its problems could be found in a product lifecycle management solution, so the company issued an RFP in 2011, narrowed the search to two contenders, and eventually chose Dassault Systemes. One of the primary reasons for that decision, says Bollinger, was that Dassault agreed to integrate Adobe Illustrator into its platform, enabling FOSSIL's design group to drag and drop directly into the PLM system without having to re-enter data.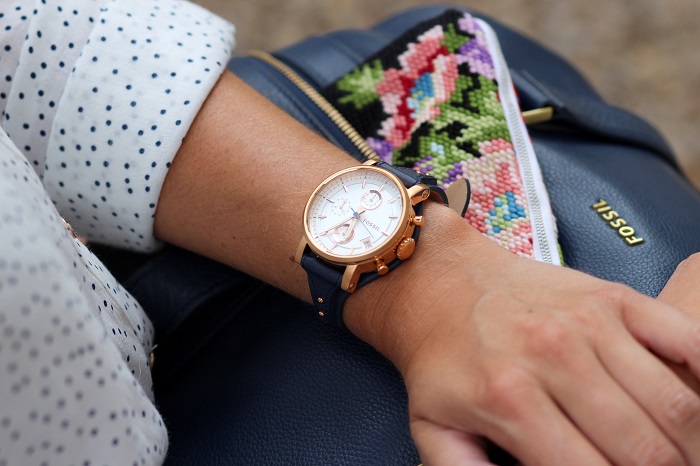 "Designers don't want to do data entry, and we didn't want a layer of re-interpretation," said Bollinger. "So Dassault created the link between Adobe and its PLM system, and it's amazing," he says. By having Illustrator integrated from the beginning, all projects are maintained in the system from start to finish, eliminating any "rogue development." The company has about 900 licensed users on the system, including internal designers and vendor partners. FOSSIL started the project in February 2013, with two planned go-lives, and finished in July 2016, with the Adobe portion one of the last things to go live. "It was a lot of work on Dassault's end," he says.
It's been less than a year, but the benefits are unmistakable. One of the most significant is that FOSSIL now has a clear understanding of its design-to-hit ratio, and because it can measure it, is able to improve it. For example, for one watch brand, it has improved from an eight- or nine-to-one design-to-hit rate to a five-to-one design-to-hit rate. Said differently, it has reduced by about 45 percent the number of designs it creates, while increasing the percentage of designs it adopts.
"That is a very big impact," says Bollinger. "We have less sampling. On one of our larger brands, for example, that kind of reduction in sampling would translate to about 300 fewer designs per brand, and we typically do about three samples per design, so that's getting close to 1,000 fewer samples per brand per year."
FOSSIL has also reduced cycle time, in large part due to that reduction in hit ratio, but also because of greater transparency and collaboration. "In short," says Bollinger, "we have one tool, one process and one truth."
Jordan K. Speer is editor in chief of Apparel.
Editor's Note: If you liked this article, check out all of our 2017 Top Innovators.