Joann Utilizes Tech for True Shopper Personalization
Get great content like this right in your inbox.
Subscribe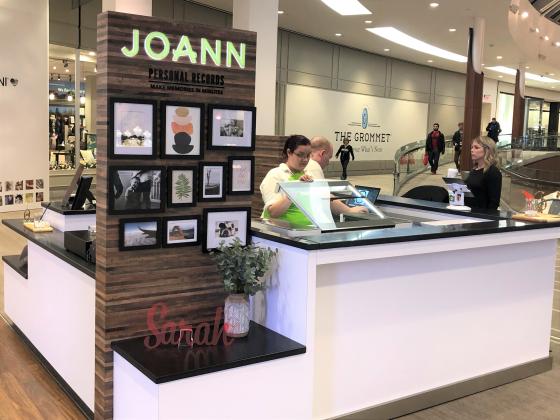 Craft specialty retailer Joann has been on a mission to build the creative experience in its stores. Now it has rolled out two new ways to personalize the shopping experience.
"We know today's consumers are looking for personalization in every retail experience, and that's amplified in the craft arena," said Steve Miller, SVP of Marketing.
3D Laser Printer Technology
Joann has invested in Glowforge, a startup that is disrupting the DIY arena with 3D laser printer technology that creates intricate, precise custom cut projects at the push of a button. With its investment, Joann secures its place as Glowforge's brick-and-mortar national retail partner, and will roll out the breakthrough technology to select stores in the coming months. The start-up made crowdfunding history in 2015, raising nearly $28 million in 30 days, and launched its first machine to the public in April 2018.
For More on Personalization
Data creates opportunities for retailers to power personalized customer experiences, identify insights that can transform their business and leverage their understanding of each individual customer. At the NRF Big Show 2019 session "The Pursuit of True 1-to-1 Personalization," True Fit's director of Brand Relations, Sarah Hodge, and Sean Condo, head of Digital Commerce, ASICS America will discuss how to bring target audiences, consumer purchasing patterns, fit consistency and returns performance into one aggregated view, to help retailers provide superior experiences across all touchpoints of the shopping journey.
For more on NRF's yearly expo, check out the RIS editors guide "Next Stop: the NRF Big Show" and get a short glimpse into the speakers and sessions that will define The Big Show 2019.
"We know our customers are looking for the best and latest creative technology, and we want to bring them the opportunity to try it first," said Stephen Caution, VP of Business Development. "By investing in Glowforge and partnering to roll these amazing machines out to our stores, we'll allow customers to test them out and create things they love. From custom acrylic floor lamps, to plywood drones, to leather shoulder bags, the possibilities with Glowforge are truly limitless."
Currently, customers can use the 3D laser cutting and engraving option at the just-launched Joann Custom Shop in the Natick Mall outside of Boston. The in-mall kiosk is the first for the retailer, and offers custom framing in addition to laser cutting and engraving. The Glowforge tech is also available in the retailer's concept store, which also offers a number of other rentable technologies and machines.
"Joann has become much more than a place where people buy things, and we know crafters want more options like this," said Caution. "We're not only looking at our stores as places to sell crafts and fabrics, but also as destinations customers can come for advice, inspiration, education and sharing. By offering new custom technologies like Glowforge and services like those in our concept store, we are building an experience our customers have told us they want."
Glowforge users can start with something as basic as a hand-drawn image, or use software like Photoshop or clip art to print a file using the intuitive web-based app. Customers are able to see a preview of the results, and drag the images around on their chosen material to position them exactly as they prefer.
"We founded this startup on the goal to re-invent the idea of 'handmade' and open the DIY space to more people than ever before," said Dan Shapiro, CEO of Glowforge. "Through this partnership, we are opening the doors of creativity to a broad spread of makers who will be able to help us expand and perfect our machine offering. We couldn't be more excited to inspire new creators together with Joann."
In addition to the in-store partnership, Joann and Glowforge will collaborate to develop supplies and tools to help optimize machine capabilities. The machines will roll out to other JOANN stores across the 865-store chain in 2019, and will also be made available for custom online orders.
Customized Fabric
Joann also just launched MyFabric to allow customers to show their personal style through completely customized fabric creation. Powered by WeaveUp, the program offers customers unprecedented design control. Customers can now not only select from thousands of designer patterns, but also customize the exact color, scale and repeat of the pattern, and choose from dozens of high-quality fabric substrates. In early 2019, MyFabric will expand to allow customers to upload their own pattern designs as well.
"For 75 years, our customers have sewed, quilted, upholstered and crafted as a way to express themselves," said Miller. "But they could only choose from the fabric designs, colors and weights that were available. MyFabric opens the door to a new era of creativity, and brings an added layer of handmade individuality."
Customers can manipulate more than 8,000 designer patterns in the browser-based service at joann.com, where they can also find inspiration for their home décor or fashion projects in featured collections and themes. Then, they select from dozens of fabrics, ranging from sheers to upholstery weight, to be printed with unparalleled precision and color quality. Additionally, they can visit stores to actually touch and see the fabric options before placing an order. Orders are printed in the USA using an eco-friendly process that results in sharp, colorfast designs, and users can order their custom fabrics in any quantity, even as little as a single yard.
"As America's full-service sewing destination, we are constantly looking for better ways to serve each and every customer," said Miller. "We're confident this unparalleled offering will help inspire customers to tap into their personal creativity, and we can't wait to see what they create."