03/22/2017
The Keys of a Digital Spine Framework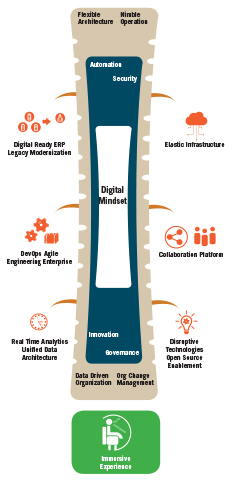 The future-ready enterprise should be designed for the unknown with flexible architecture and plug-and-play capabilities to quickly adapt to disruptive technologies. It should leverage a high degree of automation for speed and avoidance of manual errors, be horizontally and vertically scalable, utilize reusable components, provide immersive experiences, maintain standardized processes, and focus on value creation rather than integration. 
The digital spine framework shown here embodies a timeless design while advocating the execution approach with a digital mindset. It should be viewed as the spine of a living, breathing, digital enterprise. With this framework at its core, enterprises can truly venture into the future. It needs to become the default across the organization. 
Journey to Digital [Spine] Org
Enterprises should be pragmatic and must develop a long-term vision while taking small, incremental steps with tangible and visible benefits to build momentum and gain consensus across the organization. Benefits from digital initiatives, however, cannot be fully realized unless the enterprise reduces complexity. 
The digital programs should be part of an overall strategy and should be aligned with one another. From an architecture standpoint, they are all tied to the same enterprise fabric and must be envisioned and executed as such. It is crucial that the framework is self-learning and self-evolving. Below are a few of the digital initiatives relevant to current technology trends, and their recommended approach:
Integration, micro services and APIs. Self-service provisioning can be realized with micro services and API functions. APIs allow for plug-and-play integration and omni-connectivity. Micro services based digital architectures allows for flexibility, single-service scalability, code boundary separation, and small, continuous deployments.
Elastic infrastructure. Organizations should create a portfolio approach to infrastructure and consider a hybrid cloud approach, enterprise Platform-as-a-Service, managed services, and containerization.
Unified data architecture. By building an enterprise information fabric, including both a data and analytics fabric, retailers can predict the trends from business and market insights. 
Immersive experience. Retailers need to ensure their focus is experience-first, in all customer interactions, in all channels.
Open source enablement and disruptive technologies. Leveraging open source to address business problems can provide significant competitive advantage. It expands the organization's horizon and brings disruptive technologies into purview for possible experimentation.
Conclusion
The digital spine framework delivers rapid innovation for enterprises to not only survive but also thrive, as digital revolution separates the disruptors from the disrupted. Those that transform themselves from a legacy to a digital mindset and continuously reinvent will be the disruptors.
Future state architectures should be designed for the unknown and companies should consider adapting a pragmatic approach of small, incremental deliveries towards executing these transformational initiatives.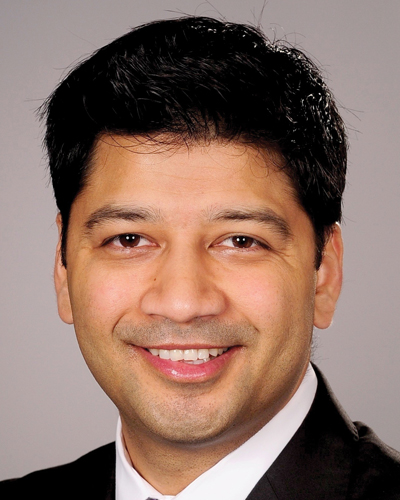 Aashish Chandra is the global head of technology, retail, CPG & TTH at Tata Consulting Services. www.tcs.com