Michaels Investing in Slew of Technology to Enhance Customer Experience
Get great content like this right in your inbox.
Subscribe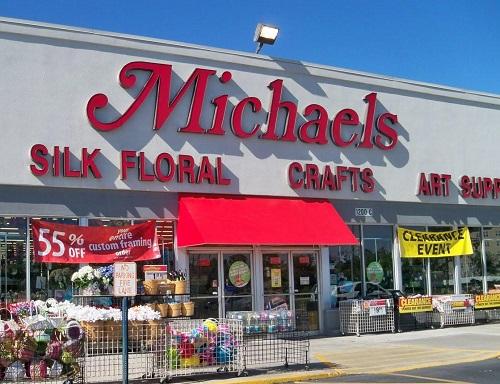 As the arts and crafts segment continues to struggle, industry leader Michaels is deploying a host of new technology to greater connect with core customers and lure casual shoppers to the brand.
 "While there isn't great third party data available to track trends in the arts and crafts channel, as we aggregate trends across our individual retail consumer brands, both in brick and mortar and online as well as insights from Darice, our wholesale business, our data continues to suggest that the core arts and crafts channel isn't currently expanding on an aggregate basis," Michaels' CEO and chairman Chuck Rubin said on a recent earnings call with analysts. "While we do not believe this is a long-term trend, as the leader in the channel we are not waiting passively for the industry to improve. Instead, we are aggressively pursuing actions to win even more share of this fragmented industry."
Michaels' strategic vision is to continue to invest in the customer experience with a focus on digital technology to increase the total number of customer store trips as well as increase total spend.
"We are investing this year to create a more seamless omnichannel experience for customers, to expand FMA stores, to bring e-commerce fulfillment in-house, and to strengthen our data analytics," said Rubin.  "Our plans in each of these areas are on track and progressing as expected."
Below is a quick look at how the retailer is advancing on these and other key initiatives:
Digital
Digital sales have increased significantly, but that increase may be misleading, because as Rubin says it is not a major portion of Michaels' business. "E-commerce is clearly growing because it started from such a small base. We had significant percentage growth in our online sales in Q1, as we expected to, and we're seeing growth from other online players as well. But it is still an incredibly small part of the overall industry."
To keep that e-commerce momentum rolling the retailer is investing in a slew of digital initiatives including:
Enhanced mobile app. The retailer is adding new, easy-to-use visual search capabilities. Customers can use their phone's camera to take a picture of an item and use it to search Michaels' products. The app also features a wayfinding solution that guides the customer to the exact location of that item in the store.

Social networking. The retailer continues to scale its social media efforts across multiple platforms. It has nearly 4.5 million followers across Facebook, Twitter, Instagram and Pinterest. "We have the largest social reach amongst all the big box arts and crafts players," said Rubin. "And with the recently launched Talky Walky platform, which enables makers to talk to other makers, we've facilitated more than 45,000 questions asked through this platform."

Simplified homepage. The retailer has redesigned Michaels.com to make it easier for customers to quickly find what they need. The new flexible platform allows for customized solutions for unique shopping missions.

CRM. "With the continued expansion of our loyalty program and analytical efforts, today we can link 72% of our transactions and more than 80% of our sales to a unique customer," said Rubin. "Digging deeper into this data, we continue to see good positive comp growth from our enthusiast customer; however, gaining traction with the more casual customer is taking longer than we had hoped."
In-House Distribution Center
As digital sales continue to increase Michaels is developing an in-house e-commerce distribution solution to replace its current third-part model.
"We'll have an opportunity as we get to the back half of this year to test and prove the system works, but in the fourth quarter we will still be reliant upon our third-party provider to actually deliver for our customers for the holiday period," said CFO Denise Paulonis. "We will not have the facility online until 2019, and in 2019 will be when we start to see the benefits. So we anticipate that our ability to better control those shipments for our customers should hopefully provide for a better customer experience and our ability to absorb it in-house, where we will have a bit of fixed costs that we will be able to leverage as volume increases over time, we think are both wins for us."
Stores
While Michaels' e-commerce sales continue to increase, the arts and crafts segment is still primarily a brick-and-mortar business. To help draw customers back into the store, the retailer has implemented a flexible merchandising area (FMA) concept that it is rolling out across the chain. The FMA stores feature a fluid front-of-store design that allows for frequent merchandising changes that reflect seasonal and market changes.
The retailer plans to convert 235 stores to the new concept during its fiscal Q2, bringing the total to more than half of the chain's 1,300-plus locations.
In addition to the reimagined store layout, the retailer has begun rolling out buy online pickup in store to capitalize on its growing e-commerce presence while continuing to leverage the power of its in-store experience. "While it's still early, we are very pleased with the level of customer adoption, and we continue to test ways to leverage this trip to drive add-on sales," said Rubin