03/20/2018
Overstock Adds Augmented Reality to Android App Using Google's New Tech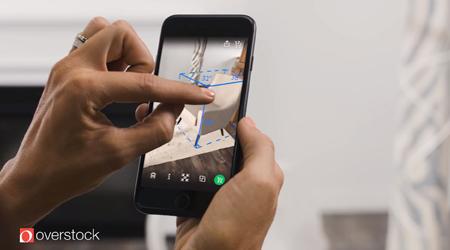 Overstock.com, Inc. has added augmented reality (AR) within its shopping app for Android, updated to feature Google's ARCore technology. Shoppers on more than a dozen different types of Android devices can now deploy the AR experience directly from the retailer's app, featuring thousands of true-to-life-size 3D models in the highest resolution. Overstock delivers the most accurate representation of products so customers can see exactly how the items fit in their room.
Overstock has offered AR functionality within its app for Apple users since the ARKit launch in September 2017. Now, with Google's launch, AR is available to more than 100 million Android devices and all Overstock.com customers on qualified devices with the AR capability for iOS and Android.
"We have invested significant resources into cutting-edge tech, like augmented reality, to make sure shoppers have the best possible experience," said Amit Goyal, senior vice president of software engineering at Overstock.com. "This technology brings thousands of products directly to our customers' living rooms. In a matter of minutes, they can search thousands of furniture pieces, see how they look in their space, purchase the one they want, and have it delivered to their home - on one mobile app."
Customers can now place Overstock's top-selling products in an AR environment alongside their own furniture and décor to see how the size, textures, and colors match their current room's design and flow. They can also share pictures of their design through direct messages or social media and add products to their cart or purchase pieces with Android Pay, all without leaving the AR view.
"Overstock's mission is to leverage technology to make the online shopping experience easier and more enjoyable," said Overstock.com president Saum Noursalehi. "With AR and advancements in machine learning, soon you will be able to completely decorate your home in an AR environment through simple communication with artificial intelligence that understands interior design."
Eventually, the retailer expects to have millions of products across all categories available for use within the AR experience, and will offer each user personalized recommendations within the app to fit their unique style.