Push Notifications: How to Stick the Landing
Get great content like this right in your inbox.
Subscribe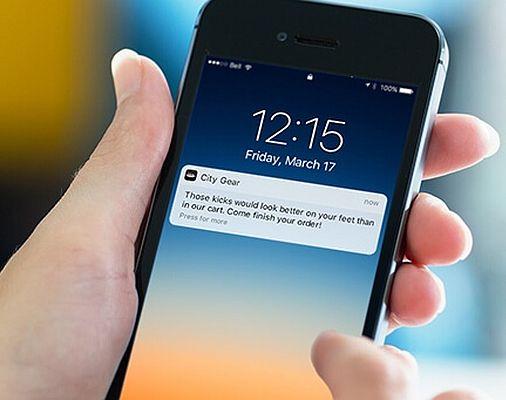 As a retail marketer, you likely know the many benefits of push notifications, but what you may not know, is the diverse range of options you have to work with using this underutilized feature. While email is still an effective channel in terms of communicating with consumers, nothing can come close to push notifications when it comes to providing users with a one-touch path to purchase right on their smartphone screen - a screen that's viewed more than 50 times a day on average.
Beyond determining the type of content you want to push to customers, it's crucial to consider what the actual experience should look like after you've tested your messaging, determined an appropriate cadence and targeted the right audience. This is the time to decide where you want your customers to go once they've landed in your app. Let's look at a few options:
Home
To re-engage dormant users or make a solid first impression with new users, the standard home screen is a safe bet for a landing zone. It's a simple, strong place to start, especially if when leveraging a "Deal of the Day" banner or front-and-centering a new product.
Product
For a more targeted approach, try using segmented push notifications to drive a particular demographic to a specific product. Again, this could serve as an opportunity to introduce something new, or as a way to suggest a specific product to a consumer who may be interested in that product. Either way, it only requires one tap, and it brings the consumer one step closer to a conversion.
Product with coupon
Speaking of proximity, using coupons in conjunction with push notifications can skyrocket conversion rates. If timed correctly, push messages with coupons can create a strong sense of urgency, capitalizing on impulsive buying behavior that apps all-too-often expose.
Add coupon to cart
If you don't feel like you are getting along with your push messaging approach, you can always cut right to the chase and send consumers directly to the cart with a well-timed coupon in tow. Creating a sense of urgency with your message is a good strategy, but at the end of the day, it is more important for the experience to be seamless and the path to be clear. In retail, it doesn't get much more clear or convenient than with a coupon waiting to be used in a consumer's online cart.

Just as push notifications are an immensely valuable tool for merchants, they are a welcome means of communication for consumers as well. It's easy to see why push messages drive higher conversion rates than traditional marcom channels. Why go through a lengthy email about all seasonal sales, when you can just as easily send a short, timely and relevant product coupon directly to a consumer's smartphone? Providing a simplified path for shoppers to apply a coupon to a product in their app with just one touch is an expeditious shortcut in the path to purchase.
Whether introducing your app to a potential customer for the first time, or directing traffic toward a limited-time sale, push messaging is one of the most effective omnichannel assets at your disposal, and a great way to stick the landing – and close the sale.
By Marc Biel, CEO, Shopgate