Retail Tech's Women of Change
Get great content like this right in your inbox.
Subscribe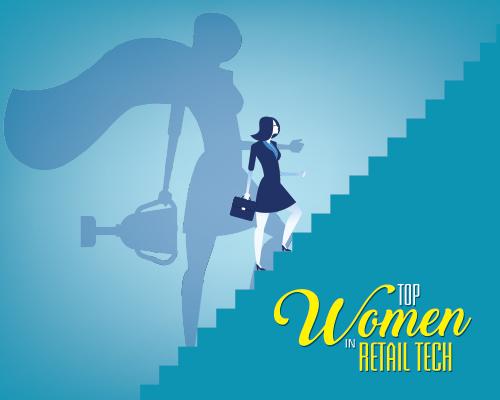 The faces behind the monitors have changed. A few decades ago, women in high-ranking technology positions were a rarity. Today, women are well represented at every level of IT, so much so that the gender gap is almost a non-issue — almost.
Although the demographics are quickly evolving, men still hold the lion's share of positions in IT. In fact, just 26% of professional computing occupations are held by women, according the National Center for Women & Information Technology.
The mass quantity of IT workers still check male on their employment forms. But make no mistake, women are on equal footing in the quality department. Smart, innovative and insightful female leaders are in place across retail, making their mark on the continually evolving industry.
To honor the leaders that are having the greatest impact on the industry, this issue of RIS features our second annual Women in Retail Tech feature. This year's group of 10 tech visionaries have shattered the proverbial glass ceiling and are reshaping the industry through the ingenious use of cutting-edge technology.
We asked each member of our cover story how the role of women has evolved over their illustrious careers. Below is a quick look at some of the most poignant responses. 
• It used to be that there were so many men working in the field that the environment was nearly inhospitable to women. Now, there are more and more women getting into the field and engineering teams are looking more and more diverse. That is causing an environmental balance that even the male engineers are finding preferable. — Melissa Baird, VP, Systems & Procedures, Draper James
• With more women focusing on careers and the workforce being more balanced, I would 
say the perceived glass ceiling is a non-issue. And with the natural differences between men and women, the addition of women in leadership has created a stronger strategic focus 
for most companies. — Lisa Johnson, CFO/VP, Finance, Petland
• There is now such a big focus on attracting women to the STEM field of study. That was never a high focal point when I went to school. It is so exciting to see the development of early interest in this career choice. There are so many paths open to women. It really is about nurturing the interests to get more women involved, improving diversity in the field. — Suzanne Toepfer, Director of Merchandise Systems, Chico's FAS
• It has been great to see the overall number of women increase, but also the number of women in leadership in the industry grow. Women are more confident in their ability to be successful in their careers and lead the industry. — Kelly Milazzo, VP, Operations, Toad&Co 
- - - - - - - - - - - - - 
Editor's Note: Hear three other highly accomplished women discuss the role female executives play in retail today at successive moderated fireside chats at NRF 2018 on Monday, January 15, from 8:30 to 10 am. GE's vice chair Beth Comstock, Huffington Post founder and founder and CEO, Thrive Global, Arianna Huffington, and CVS Pharmacy president and EVP of CVS Health, Helena Foulkes will share their insights in the "Transformational Leadership: Women Empowering Change"  session.

For more on NRF 2018 be sure to check out RIS' preview guide here.