11/19/2018
Sneak Peek: Nike's Retail Store of the Future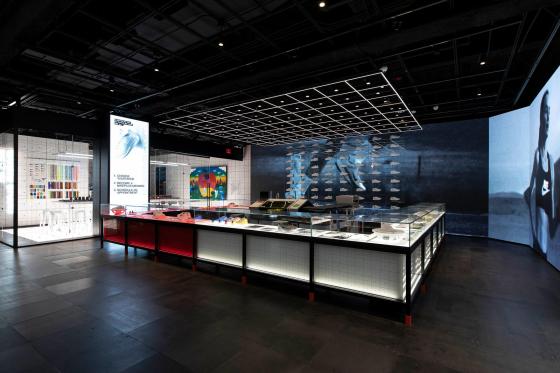 Nike's calls its New York City flagship "House of Innovation 000," an apt name for the sprawling store of the future.  
The sports appeal retailer's new flagship resides in a 68,000-sq-ft space on the corner of Fifth Avenue and 52nd Street, expanding across six stories. The tiles on the Arena level can be rearranged to host new spaces and configurations so the store layout can evolve, making it a fully customizable store.
The Nike App provides in store shoppers experiential choices through their smart device. New features to Nike NYC include Shop The Look, where shoppers can scan a code on an in-store mannequin, browse every item that the mannequin is dressed in, check to see if specific sizes are available in-store and then request for a store athlete to send the items to a fitting room. In addition, familiar assists are available, like NikePlus Member Unlocks upon entering the store and Scan to Try, where shoppers can request an item to be brought to them for a quick fitting. 
Nike Instant Checkout allows shoppers to scan and pay for purchases from within the Nike App skipping the checkout line. Nike Instant checkout stations are positioned throughout Nike NYC so customers can bag their purchase and go.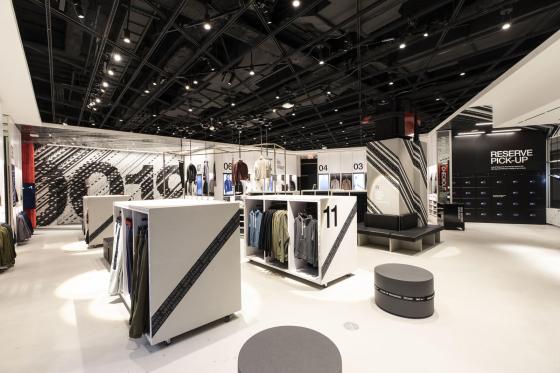 The Nike NYC store also introduces the first Nike Speed Shop, an entire floor that uses local data to stock its shelves, and re-stock them based on what the community wants. Think Nike by Melrose, but at an even larger scale. Shoppers can browse the Sneaker Bar with the aid of a store athlete or a digital read-out of locals-only data. NikePlus members can reserve items via phone and have them held in an in-store locker, ready for pickup.
Nike NYC features two maker's studios. Another full customization wing is housed in The Arena, offering laces, fabrics, decals and more with which to embellish a wide selection of continually refreshed footwear. Joint collaboration is available in the Nike Expert Studio, a one-on-one service that local Nike Members can book in-store and on the Nike App. NikePlus members can partner with a Nike Expert to find the right item, and then work together to create a personal look at the fully-furnished customization station on the same floor.