04/26/2019
Starbucks Adds Half a Million Loyalty Members, Then Changes Its Rewards Structure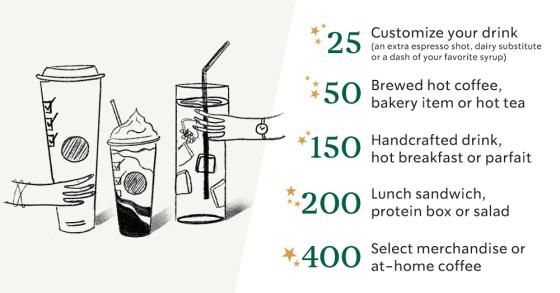 Starbucks' loyalty program had a great second quarter. And then the retailer made a big change.
The coffee giant added half a million Starbucks Rewards members in its Q2 2019, growing its total to 16.8 million active members in the U.S., up 13% year-over-year. President and CEO Kevin Johnson said the momentum had a "positive impact on results," as Starbucks rewards members accounted for 41% of U.S. store sales in the quarter.
However, the company's quarter ended March 31 and on April 16 it rolled out a new tiered rewards program.
"We are very pleased with the smooth rollout of our enhanced Starbucks Rewards Loyalty program that provides customers greater choice and flexibility in redeeming rewards," Johnson commented on the company's earnings call.
Prior to the change, members needed 125 stars for a choice of a free drink or food item. The new tiered program offers rewards at 25, 50, 150, 200, and 400 star increments.
"We think the new rewards plan runs the risk of alienating the core customers," Bernstein analyst Sara Senatore wrote in a research note.
"With lower discounts on higher value items, the program should be margin accretive — assuming no change to customer habits," the note said. "But customers are savvy, and higher spenders are likely to recognize that the effect reward rate is lower (as much as 50% lower on some items)."
"The program is newly launched," noted COO and group president Americas Roz Brewer. "So far, we continue to closely monitor the member calls and the commentary versus our call centers. And today, the volume has been well below our forecast. And we've also been monitoring social media as well. And if you are comparing this to times in the past when we made these transitions, this has significantly lower response from our customers and any transition they are experiencing."
Brewer pointed out the goal in the switch is to "provide more access to potential members." All members are now able to earn and redeem stars for rewards immediately after joining the program.
"The first rewards comes at 25 stars after two to three visits," Brewer said. "In the past, your first free reward would have come after 30 to 40 visits. And so, this is an opportunity for us to start our customers out and earning and redeeming stars right away."
The program change rewards new, less frequent customers, especially since stars expire unless a shopper also has a Starbucks credit card.
While U.S. comparable sales grew 4% in the quarter, the increase was driven entirely by an increase in average ticket size, with transactions remaining flat, Business Insider noted. The flat transactions in the last quarter notably come after two quarters of decline.
Starbucks' loyalty program is essential to its business and its success is paramount. Introduced in 2009, membership has increased more than 25% over the past two years alone, climbing to 16 million active members as of December 2018, a 14% increase over the prior year. Starbucks Rewards transactions accounted for 40% of U.S. store sales in the same time frame.
Any qualms about the program changes didn't seem to impact the market. Starbucks shares hit a record high after it reported better-than-expected earnings and raised its fiscal 2019 guidance.
"Since introducing Starbucks Rewards ten years ago, we've experienced tremendous growth and continued to evolve the program to meet the changing needs and purchase patterns of our customers," said Matthew Ryan, Starbucks chief marketing officer in a press release announcing the changes. "These new updates put choice in the hands of our customers and a personal touch they can only get from Starbucks."