Starbucks Combats Weak Holiday Quarter With Digital Strike
Get great content like this right in your inbox.
Subscribe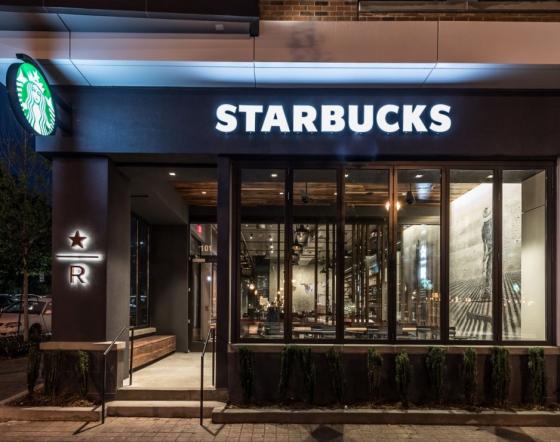 Starbucks suffered weak holiday sales, but offered up a strong digital plan to rebound.
The retailer attributed its decline in transaction comp to underperforming limited-time beverages and holiday gift-cards and merchandise, as well as a lack of visits by non-Starbucks Rewards customers.
"Virtually all our comp this past quarter came from our digital customers," said Matthew Ryan, EVP and global chief strategy officer.
In its first quarter of 2018, Starbucks delivered record revenues of $6.1 billion. However, shares still fell 5% after the company reported the holiday-quarter sales, according to Reuters, due to sales at established Americas region cafes being up just 2%, falling short of Street estimates of a 3.3% rise.
"Holiday limited-time-offers and merchandise did not resonate with our customers as planned," Kevin Johnson, president and CEO, plainly stated.
As Starbucks works to turn the tides, beyond food and beverage innovation, the coffee giant continues to accelerate the power and momentum of its digital flywheel, which Johnson referred to as "an initiative that has taken on added significance as we look to materially expand our universe of digitally connected Starbucks customers beyond only Rewards members."
The coffee retailer added more than 1.4 million active Starbucks Rewards members in the U.S., up 11% year-over-year, and now boasts 14.2 million active members. Mobile payment in the U.S. has grown to over 30% of total tender.
"The ubiquity of mobile and credit card payment is enabling us to begin an exploration of cashless stores in the U.S.," said Johnson. "Building on partnerships with companies like Chase, Tencent, Alibaba and others, enables us to explore new ideas that leverage our digital assets, global retail footprint and global customer base with the digital payment platforms of today, while also monitoring the landscape of potential payment platforms of the future."
According to Johnson the company is driving an increase in per-member-spend through the rewards program, by leveraging personalized offerings and suggested selling.
Now that Starbucks can offer Mobile Order and Pay to non-rewards members, in March the company will begin accelerating the ramp up of this to all customers.
It will also work on accelerating marketing engagement to expand digital customer relationships. A co-branded credit card in partnership with Chase and Visa will launch in February. These customers will earn Star rewards (good towards food and beverages) at Starbucks as well as everywhere else they shop. In April a co-branded stored value card targeted to customers who don't want or can't qualify for credit cards will launch. This card will also let customers earn Stars wherever Visa is accepted.
In March, the retailer will launch "a significant marketing initiative" to sign up customers for special offers outside of Starbucks Rewards.
"We are going to be targeting, not just the Starbucks Rewards customers, but all customers with ways for them to sign up and engaged with us directly," said Ryan. "That will create a new pool of customers that we can use our marketing capabilities to reach and talk to, and build a business from."
"With only 14 million of the 75 million or so unique customers, who visit us each month signed up for Rewards, we have a tremendous opportunity to leverage our new digital technologies to initiate and advance additional direct digital relationships," said Johnson. "By the end of the fiscal year, we expect to establish millions of incremental digital customer relationships outside of Starbucks Rewards, giving us an entirely new direct marketing capability to a vast customer audience."
Starbucks also has plans to expand its Roastery concept. While the U.S. Starbucks stores on average do about $32,000 a week, The Roastery in Shanghai is doing, on average, twice that each day. The Roastery in Milan, Italy, will open in the fall, and one in New York will follow.
Schultz

's Thoughts on Blockchain
At the end of Starbuck's recent earning call, executive chairman Howard Schultz brought up blockchain technology and noted he personally believes that there are going to be "one or a few legitimate trusted digital currencies off of the blockchain technology." He said, in terms of its consumer application, that legitimacy and trust "will have to be legitimatized by a brand and a brick and mortar environment, where the consumer has trust and confidence in the company that is providing the transaction."
He specifically called out Bitcoin, and noted, "I don't believe that Bitcoin is going to be a currency today or in the future."
Schultz predicted, "I believe that we are heading into a new age, in which blockchain technology is going to provide a significant level of a digital currency that is going to have a consumer application. And I believe that Starbucks is in a unique position to take advantage of that."
Schultz also said the company will "ensure the fact that we are at the cutting edge of this technology, of this consumer application. And we think we have something to offer the companies that are chasing this, because we are in a position to create the trusted legitimate place in which this could be accepted and possibly take advantage of the mobile payment digital platform that we have created."
He did however note the company is not "making a significant investment in this." At least for now.