02/13/2019
Theft Helped Walmart's Decision to Checkout of Cashierless Checkout Technology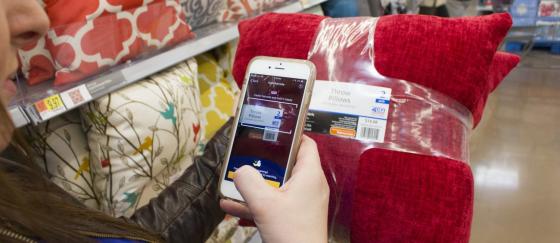 Last year Walmart ended its mobile-checkout program, Scan & Go, and also launched its associates-powered mobile checkout program: Check Out With Me. Now it seems theft may be the reason for the switch from self-checkout to associate checkout.
A former Walmart executive said shopper theft was a major reason why Walmart killed Scan & Go after expanding it to more than 100 stores, Business Insider reports.
"You think that the theft is bad on self-checkouts? Wait until you try Scan & Go, where nobody is watching the customers out in the aisles," said Joel Larson, a former Walmart senior manager who led Scan & Go as the head of checkout innovation before leaving the company in October, in the report.
"We found too many errors in the process ... making sure people were scanning things right, multiple quantities, that sort of thing," Walmart chief technology officer Jeremy King said during a conference last month.
In one case during the Scan & Go rollout, a customer tried to leave a Walmart store with a cart of about 100 items, only 40 of which he had scanned, Larson said.
Scan & Go allowed customers to scan and bag items while they shop, and pay for their purchases with their mobile devices. Available for Android or iOS devices – or via handheld devices provided at kiosks in test stores – the app stored credit or debit card information for fast checkout. Once customers finished shopping and paid for their products, they walk through the Mobile Express lane, bypassing checkout. 
After testing the program in the Dallas-Fort Worth, Orlando and northwest Arkansas markets, Walmart announced in January, 2018, plans to expand it to 100 more stores nationwide, in 33 states.
It then pulled the plug on the program just a few months later, in May.
Click here for the full update from Business Insider, "Ex-Walmart exec says theft helped kill Walmart's cashierless checkout technology."