10/25/2017
Walmart Dabbles in Virtual Commerce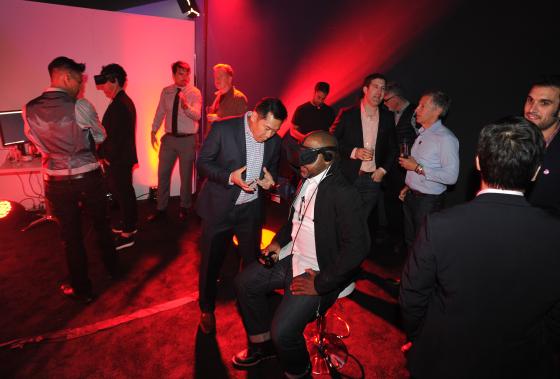 Walmart's technology focus has recently been on returns, e-commerce, and fulfillment, but now the mega retailer is looking at virtual commerce.
This summer, Walmart's technology incubator, Store No 8, held an open call to Virtual Reality (VR) developers to submit ideas. Innov8: V-Commerce received nearly 200 submissions from around the world and the winners received capital to fund development costs.
Store No 8 held the Innov8: V-Commerce Gala on October 18, where it showcased shopping experiences from the five winning VR developers, each solving different problems in the v-commerce space.
"During this process, our five Innov8ers have uncovered radical new technologies, approaches and applications across the virtual retail experience, that we know will play a major role in driving commerce forward at a time when technology influences all aspects of consumers' lives," said Katie Finnegan, Principal of Store No 8.
The gala took place at a private residence in Hollywood Hills where top brands, technology companies and venture capitalists gathered to experience how customers might shop in the future in virtual reality.
The event was presented in collaboration with Arianna Huffington's Thrive Global as co-host and Accenture as a strategic innovation advisor. The Accenture Extended Reality group helps companies envision, create and deliver impactful new immersive experiences that fuel new business growth by improving connections with customers, optimizing productivity and performance of employees and creating and monetizing new digital products and services.
Each exhibit encompassed Store No 8, Thrive Global and Accenture's vision for the future of VR.
"Today's consumers deserve on-demand, immersive experiences of products," said Finnegan in a Linked-In post. "Through VR, they can realistically interact with the items from anywhere in the world, transforming merchandise into experiential content."
8i and Bonobos showcased volumetric video technology for customers to experience photorealistic holograms of real people. The platform enables interaction with a Bonobos Guide to select virtual shirts from a rack and understand fit on a hologram of a real model. The experience allows consumers to view how the fabric moves and get a sense of sizing, allowing for more realistic shopping previews and reviews, benefiting both customer and retailer.
Obsess and Rebecca Minkoff showcased a virtual Rebecca Minkoff store, digitally generated with photorealistic quality. The platform offers the ability to create interactive virtual store environments that are customized to reflect the brand's identity. The experience demonstrates the potential of virtual stores to extend beyond the capabilities of physical retail stores, such as allowing consumers to experience a fashion show as if they were there and shop the runway.
"Through VR, our team sees a future in which we can create dynamic, interactive, multidimensional e-commerce experiences that are unparalleled," said Finnegan.
To this end, Fyusion and ModCloth showcased technology to create photorealistic 3D images using only a smartphone. This technology democratizes the scan and capture experience allowing content to be created by anyone with any camera, with content viewable on any hardware.
Capturing images in 3D allows for automatic data tagging, background image effects, and visual search. This technology allows consumers to experience the realistic feel of an item before they purchase without having to physically go in-store and provides retailers the opportunity to create interactive imaging at scale.
Nurulize showcased Atom View technology which enables products or environments to be imported, edited and streamed into a VR volumetric space from any captured or created data source. Nurulize's Nu Design VR software application demonstrated social interaction where two or more people explored virtual items. Consumers can experience virtual shopping with others, creating a true social VR shopping and sharing experience.
Specular Theory showcased FAB (Families And Babies), the first safety tool and educational v-commerce platform using the power of VR, AR and AI to build trusted relationships between consumers, products and retailers.
FAB has the ability to identify child safety hazards and provide product recommendations based on a family's specific needs such as child age, to be virtually tested before purchase, making it easier for parents to shop with safety top of mind.
"Virtual reality is rapidly transforming the way companies connect and engage with their customers and employees," said Marc Carrel-Billiard, senior managing director of Accenture Labs and head of Accenture Extended Reality. "Accenture is committed to investing in and developing this powerful technology given the tremendous potential we believe it has to drive new innovations and deliver real business value."
"Innov8: V-Commerce was the first step in our journey, and we're just getting started," said Finnegan.