06/08/2017
Walmart Tests Grocery ATM
Walmart is testing a new way to appease online grocery shoppers that prefer self-service. The retail giant has rolled out an automated kiosk in Oklahoma City that allows shoppers to pick up groceries any day or time.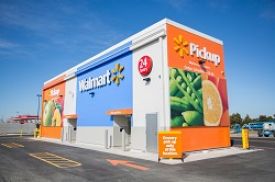 Here's how it works. Customers place and pay for orders online. Employees then select the products ordered and store the items in bins inside of the refrigerated kiosk. The customer can then walk up to a touchscreen and punch in a pickup code to retrieve their groceries.
Imagine it as a 20-by-80-foot vending machine style building in the parking lot of the Walmart supercenter at N Council and W Britton Roads in Oklahoma City.
More than 30,000 items, including fresh produce, meats, dairy products and organic groceries, can be ordered online for the same price they cost in the store and can be picked up free, 24 hours a day, 7 days a week. The minimum purchase is $30, NewsOK reported.
Anne Hatfield, Walmart's director of communications, told NewsOK the store operates a similar kiosk concept in the United Kingdom.
"Now we are starting to test some of the same features here in the U.S.," she said.
President and CEO Doug McMillon said at Walmart's 47th Annual Shareholders' Meeting that Walmart has "started to invent the future of shopping again," as the company leverages technology.
"Together, we're building a new Walmart," he said. "We're going to make shopping with us faster, easier and more enjoyable. Looking ahead, we will compete with technology, but win with people. We will be people-led and tech-empowered."
Walmart has been experimenting with various delivery methods of late, in its efforts to compete with Amazon. In another pilot, Walmart is using store employees to deliver packages to customers' homes, starting with three test stores – two in New Jersey and one in northwest Arkansas.
In this scenario, trucks moving orders from fulfillment centers to stores for pickup will be used to bring ship-to-home orders to a store close to their final destination, where associates can sign up to deliver them to the customer's house. The plan gives associates a way to earn extra income on their existing drive home.
Employees that opt in can set preferences in the technology Walmart has developed for this. They can choose how many packages they can deliver, the size and weight limits of those packages and which days they're able to make deliveries after work. Once they're done working at the store for the day, they pick up the packages from the backroom, load them into their vehicle, enter the delivery addresses into the GPS on their phone and head toward home.
"Many orders are being delivered the next day, and associates love having the option to earn more cash while doing something that's already part of their daily routine," Marc Lore, President and CEO, Walmart U.S. eCommerce, said in a blog post. "An unexpected benefit is they're finding quicker routes home thanks to the GPS built into our proprietary app."
The retailer is also testing six next-gen approaches in two recently opened supercenters in Tomball, TX, and Lake Nona, FL. One of the omnichannel approaches in the new stores is Integrated Pickup, in which shoppers can use the outside drive-thru to pick up weekly groceries, prescriptions and Walmart.com orders.
McMillon noted at the Shareholders' Meeting other Walmart tests include digital endless-aisle shopping in stores, automated pickup towers in stores for online orders, robotics and image analytics to scan aisles for item availability and shelf presentation, and machine learning and more advanced algorithms in pricing systems.