03/07/2019
Why Retailers Should Embrace the BYOD Revolution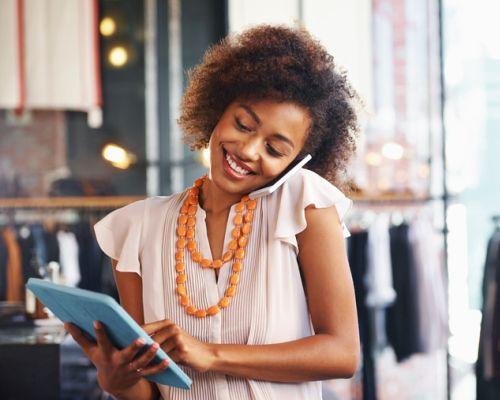 In an effort to boost customer engagement, retailers are focused on data collection now more than ever before. As part of that extra data collection, brands are investing in technologies that enable them to gain insight into in-store activities as well as making workers more productive.
While traditionally employers were providing these devices to employees to access work-related software, they're beginning to embrace BYOD (Bring Your Own Device) strategies. In fact, according to a survey by MarketsandMarkets, North American adoption rates for a BYOD policy jumped from 36% at the beginning of 2017 to 50% by the beginning of 2018.
Further enabling this trend is the growing number of smartphone users, which stands at around 77% in the U.S. according to a 2018 study by Pew Research Center.
Retailers can take advantage of the BYOD revolution to provide more engaging in-store experiences to customers, reduce device procurement costs and gain visibility into in-store performance.  
Advantages of a BYOD Retail Workforce
The growing BYOD trend is gaining traction in part thanks to emerging software suites, virtualized desktop infrastructure and other developing technologies that are facilitating the movement between work devices and personal devices. Rather than companies providing corporate devices, employees can now access corporate mobile apps and resources on their personal smartphones or tablets. By offering employees access to corporate resources at their fingertips, BYOD programs help drive greater employee and customer satisfaction—not to mention the many cost-saving benefits. For instance, brands that embrace BYOD programs can leverage the fact that most employees are regularly upgrading their personal mobile devices and thus may be able to reduce expenses on purchasing company devices and maintenance costs.
In addition to lowering costs, there are numerous collaborative and productivity-enhancing benefits to a BYOD culture as well, including reducing the time it takes to locate a device, login or understand how it works. Employees already have the device on them when they walk in, and they are familiar with how it works. In fact, another study showed that the average worker saved 81 minutes of productivity a week by using a personal device. That's over 70 hours a year, so it's no wonder the BYOD retail workforce trend is gaining so much traction across the industry.
Investing in such programs as well as retail-specific BYOD technologies, retailers can gain more visibility into their retail execution and remote workforce. For example, retailers can capture data in the field in real time, streamline staff scheduling, visually verify in-store execution, utilize GPS verification and much more. With the ability to access information in real time and use their tablet or smartphone to answer customer questions and complaints, BYOD programs can empower your retail workforce to be more productive and provide a more engaging customer experience.
Retail Workforce Management Applications Support BYOD Strategies
As the BYOD movement gains momentum in retail, companies should begin adopting new policies that encourage employees and store managers to bring devices into the store. Fortunately, there's plenty of technology on the market intended to help retail business owners navigate the BYOD waters and efficiently manage the changing workforce to ultimately improve the customer experience and brand loyalty.
Many retailers are investing in workforce management platforms and accompanying mobile applications, for example, to increase associate productivity, reduce operational expenses and provide an enhanced in-store experience to customers. The retailers that adapt to the ever-changing retail landscape will be those that enjoy success.
 -Stefan Midford, president and CEO, Natural Insight