From Wine to Manure, These Five Fashion Innovations Landed H&M Foundation Grants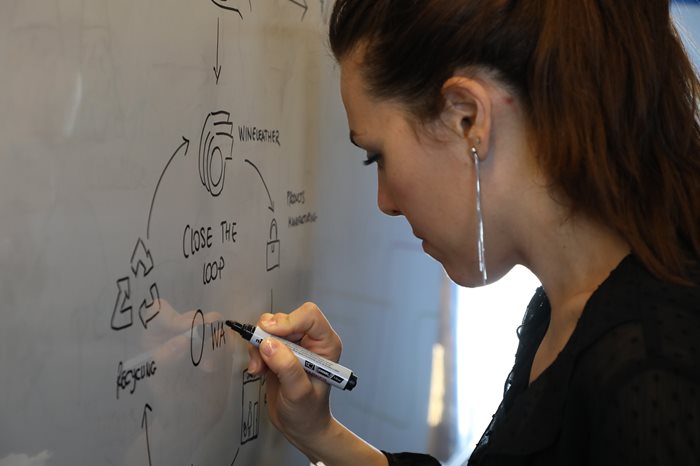 The public have cast their votes. On April 5, at a ceremony in Stockholm City Hall, the five winners of H&M Foundation's annual innovation challenge Global Change Award were awarded. The €1 million grant was split between them by the global public in an online vote. In addition, a new trend report highlights learnings about the future of sustainable fashion by looking at the thousands of disruptive ideas from 130 different countries.

To speed up the shift to a circular waste-free fashion industry, the non-profit H&M Foundation initiated Global Change Award in 2015, calling for game-changing ideas that can help reinvent the entire industry. The online vote was held March 27 to April 2, and the votes are placed:

€300,000: Innovation: Grape Leather, Team lead: Rossella Longobardo, Italy
€250,000: Innovation: Solar Textiles, Team lead: Miguel A. Modestino, US/Switzerland
€150,000: Innovation: Content Thread, Team lead: Natasha Franck, US/UK
€150,000: Innovation: Denim-dyed Denim, Team lead: Xungai Wang, Australia
€150,000: Innovation: Manure Couture, Team lead: Jalila Essaidi, The Netherlands

"We are deeply glad that such a prestigious Foundation recognized the value of our innovation and strongly believed in it. Our first objectives will consist in switching from a pilot to an industrial scale production of our fabric and starting a green, cruelty-free revolution within the leather industry, finally solving its related issues and overexploitations," says Rossella Longobardo from the team behind Wine Leather ("Grape Leather").

"I congratulate all five winning teams. They have the potential to help reinvent the fashion industry, enabling products and resources to have more than one life. Winning the Global Change Award gives you a boost through funding, coaching, industry access and validation that you probably can't find elsewhere. If you want to help reinvent one of the largest industries in the world, this is the place to go," says Karl-Johan Persson, board member of H&M Foundation and CEO of H & M Hennes & Mauritz AB.

The award ceremony on April 5 marked the beginning of a one-year innovation accelerator, provided by the H&M Foundation in collaboration with Accenture and KTH Royal Institute of Technology in Stockholm. The program will help the winners develop their ideas, focusing on three main areas; circular economy, innovation and fashion industry connection.

"Consumer expectations for more sustainable products are placing an emphasis on the industry to fundamentally re-examine and re-design the entire fashion value chain. The Global Change Award is the first of its kind challenge for early stage innovation in fashion and we are impressed by the level of bold creativity and disruptive innovation shown by the five award winners. We are passionate about helping them further develop their inspiring ideas through the Accelerator program, to support them in driving the change towards a circular fashion industry," said Jill Standish, senior managing director of retail at Accenture.

"Sustainable development is one of KTH's pillars and as a world-class university of technology we're an obvious engine and knowledge hub for this. These five amazing innovations can contribute in building a sustainable future and we look forward to kick off the one year accelerator program with the winners," says Sigbritt Karlsson, president of KTH.

Global Change Award has quickly become the fashion industry's hot spot for circular innovation, and now a Trend Report gathering the learnings so far is released today by Accenture and the H&M Foundation. It puts the spotlight on what to learn about the future of sustainable fashion by looking at the disruptive ideas from 130 countries competing in the Global Change Award. The report outlines interesting findings and trends within circular fashion and open innovation, based on analytics performed on the close to 3,000 applications submitted for the second Global Change Award.